WHAT'S NEXT FROM ORBVEST?
After a period of vigorous debate our Investment Committee has broadened the mandate for the acquisitions team. Learning from the research done by Chairman Hennie Bezuidenhout whilst in the USA late last year, the committee has expanded the mandate to include single facilities that house "IRFs". Inpatient rehabilitation facilities ("IRFs") are part of a segment of healthcare services commonly referred to as post-acute care, and after receiving treatment at an acute care hospital, patients are discharged to a facility in the post-acute spectrum, depending on their acuity and continuing healthcare needs.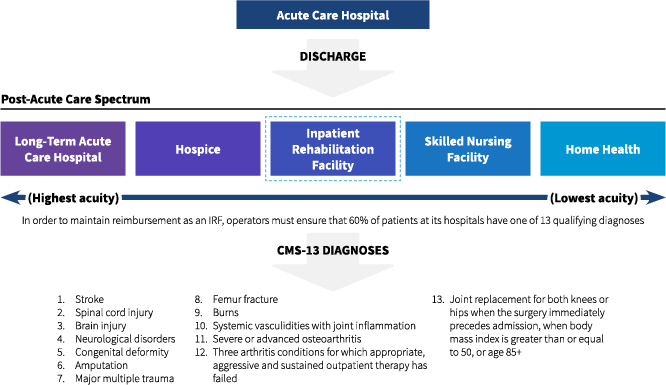 In the interest of diversity and to broaden the pool of opportunities for 2020, the Investment committee also expanded the geography into more states across the US. Previous projects predominantly came from Georgia and Texas, and it was only during the second part of 2019 that a project in the New York Tri-State area was approved.
To ensure that we can offer the best investment opportunities in an increasingly competitive market, we are now exploring investment opportunities in states including Colorado, Florida, UTAH, North Carolina and Arizona. All these states have seen growth above the US average in economic as well as population data. They are states that have no negative legislation affecting the landlord, and many of them require a Certificate of Need, which means that a medical facility is protected against competition that cannot proof the need for further facilities.
Medical 27 project may well be a Rehabilitation facility. We will keep you informed.
Investors looking to build a portfolio diversified across various states should plan in advance with their
OrbVest investment consultant
, or Independent Financial advisor.